Play sound effects for every occasion! Is somebody talking too much in a meeting? Blow the Air Horn or Whistle and silence them! Did somebody just tell a funny joke? Play the laugh track or rim shot and show your support! The joke wasn't funny? Then boo them off the stage!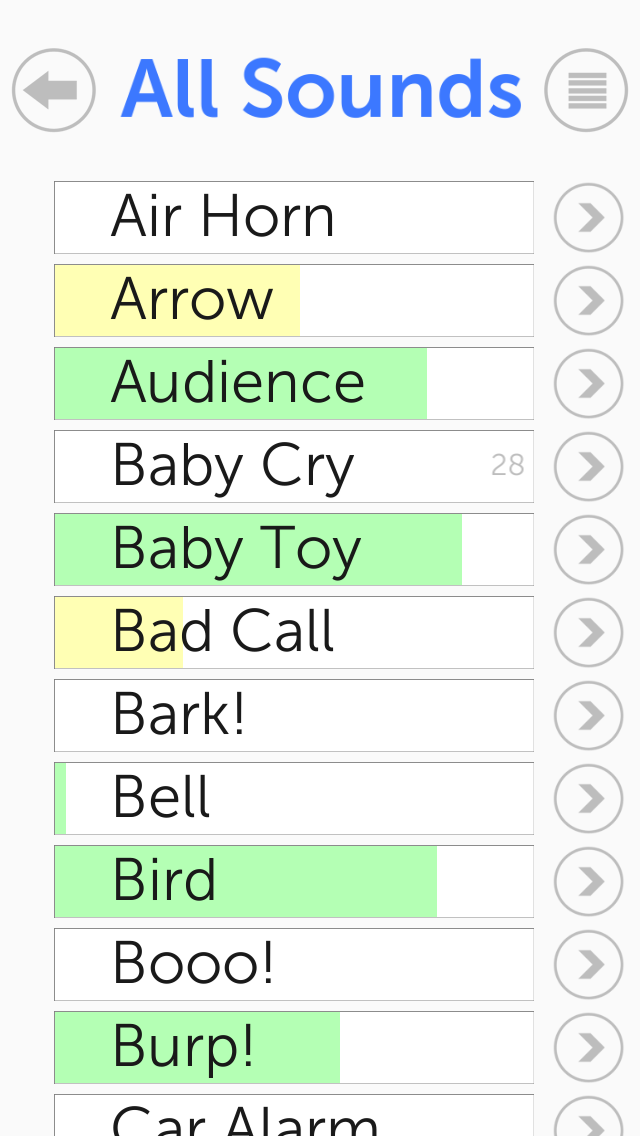 FEATURES
50+ Stock Sounds with ability to add new sounds
Playback and Mix multiple sounds at the same time
Sound Board for custom layouts of sounds
Sound Catalog for quick access to all sounds or favorites
Sound Timers for playback of sounds after specified time limit
Multiple layout sizes including Small, Medium, Large
Multiple color themes incluing Modern, Blue, and Night
Multiple sound formats including wav, mp3, caf, aac, aiff, aifc, m4a, 3gp, mp4
Available on iOS platform as Universal app that runs on both iPhone and iPad
Available on Android platform for smartphones and tablets
STOCK SOUNDS
Air Horn, Arrow, Audience, Baby Cry, Baby Toy, Bad Call, Bark!, Bell, Bird, Booo!, Burp!, Car Alarm, Car Horn, Censor Beep, Chain Saw, Cricket, Dinosaur Roar, Doorbell, Drum Roll, Explosion, Fart!, Game Buzzer, Game Over, Game Winner, Glass Break, Golf Clap, Golf Swing, Harp, Horror, Hottie!, Insane Laugh, Insert Coin, Joke, Kiss, Laserbeam, Laugh Track, Lion Roar!, Magic, Mooo!, Nose, Oooooh!, Phone Call, Police Siren, Quack!, Record Scratch, Rocket Launch, Shotgun, Slot Machine, Slurp!, Space Visitors, Sword, Toilet Flush, Uzi Gun, Warning Signal, Whip, Whistle, Zipper
SOUND BOARD
Tap a sound tile to play. Tap again to pause. You can drag the tiles into new positions when the board is unlocked. You may lock the tiles in place from the settings page. Swipe left or right or tap the next and previous buttons to change pages. You can even drag multiple tiles at the same time while navigating to other pages. If you want to rewind a sound that is paused just pick up the tile and shake it.
SOUND CATALOG
Scroll the list to get access to all your sounds. Tap the right arrow button next to the sound to toggle favorites and enable sound timers. Toggle the view between All Sounds and Favorites by tapping the view button located at the top right of screen.
---
IMPORTING NEW SOUNDS
iOS
Sound Effects allows for playback of your own sound files. Plug your device into a computer using the Apple supplied USB cable and launch iTunes. From the iTunes Library, select your device and then select the Apps tab. Scroll down to the File Sharing section and select SoundEffects in the Apps list. Drag all your sound files into the SoundEffects Documents panel. Relaunch Sound Effects and the new sounds will be imported and available for playback. Please see iOS File Sharing documentation for detailed instructions.
Android
Sound Effects allows for playback of your own sound files if they are uploaded to the correct folder on the device. Android 6.0+ devices will need to enable the Storage permission found in the App device settings.  Plug device into computer with a USB cable so you can transfer files. Locate the SoundEffects folder that is contained in the root folder of your device. Copy all your sound files into this folder and then relaunch Sound Effects. The new sounds will be imported and available for playback.  For example, using the adb console to transfer the file beach.mp3 file from the local directory to the Android device:
adb push ./beach.mp3 /mnt/sdcard/SoundEffects/
CUSTOMER REVIEWS
"Great sound effect The best part is that it drives my family crazy!"
— Daniela
"Awesome app! It's funny when you use it around people."
— hakob
"Still embarrassed but laughing! I was in the store on the other day and just as I bent over to pick up something I got a text message and my notification is the hottie whistle. OMG I could have just died… LOL! I'm sure I made someone's day."
— Rhonda
"LOL! Very fun 2 use in silent moments They never know what's coming.. Fabulous app!"
— Breanna
"Great effects! "
— Kristen
"EPIC!"
–Connor
"Must say that this is a fun app to play around with. Very amusing with the family."
— Brian