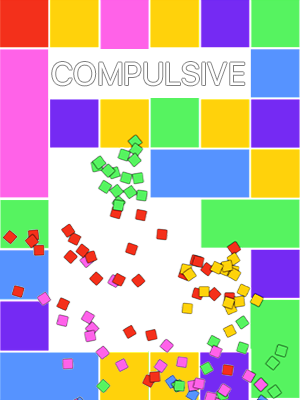 COMPULSIVE
Play now for free
A palette of beautiful colors needs your help to get organized. This quick color matching puzzle game is easy to learn and difficult to put down. Ready to get Compulsive?
DOWNLOAD
Available for free download on the Apple App Store, Google Play Store and Amazon!


Addictive color matching puzzle game
Multiple Game Modes including Arcade, Strategy, Zen, and Challenge
Multiplayer turn based games with Game Center and Google Play
Power-ups: Organizer, Cleaner, Duster
Google Play, Game Center, GameCircle leaderboards and achievements for all game modes
Beautiful bright candy like colors with a modern theme
Awesome animations, music, and sound
Play games in 60 seconds, 30 moves, or unlimited
Game Center integration for challengin friends and family
UI optimized for iOS retina displays and Android phones and tablets
ARMv7 and Intel x86 Native Support
RULES
Drag tiles anywhere on the board as long as the dropped tile joins another of the same color.
Join four or more tiles of the same color to clear them off the board and score points.
The white Clean tile clears all tiles of a specific color off the board.
Clear multiple groups of tiles in a single move for bonus points.
POWER-UPS
Compulsive 3 adds new power-ups: Duster, Cleaner, Organizer, and Visionary.
Duster removes a tile off the board and counts towards the combo. Use it to start your next combo and score bigger points. Limit 5 per game.
The Cleaner power-up removes an entire color from the board. This is just like the white cleaner tile that appears on the board. Limit is 3 per game.
The Organizer power-up gives you 10 seconds to arrange the board however you want without any tiles exploding. This allows you to create really big groups and and even bigger combos for a massive bonus. Limit is 1 per game.
Visionary power-up is a one time purchase that provides color tile counts on the board on every game played. Helps you to focus on what color to use to build your next group. Also tells you the best time to use your Organizer power-up!
TIPS
Create larger groups of tiles for bigger scores.
Set up tiles on the game board so when one group clears others will follow.
Bonus multiplier is given on the total number of groups you clean up in a single move.
Use the white tiles or Cleaner power-up to wipe up a mess or score some quick points.
Use the Duster tile to start off a killer combo.
Buy plenty of Organizers from the store to really run your score up high.
User the Visionary power-up as an indicator to use the Organizer power-up.
Play everyday to earn 1,000 extra tiles.
Connect the leaderboard to Game Center, Google Play, and Facebook and crush your friend's scores.
SCORING
Clearing Tiles
4 tiles – 250
5 tiles – 500
6 tiles – 750
7 tiles – 1,000
8 tiles – 1,500
9 tiles – 2,000
10 tiles – 2,500
11 tiles – 5,000
12 tiles – 7,500
13 tiles – 10,000
14 tiles – 20,000
15 tiles – 30,000
16 tiles – 40,000
17+ tiles – 50,000
---
Power-ups and Combos
Duster – 100 points. Counts toward combo.
Cleaner – 50 points/tile cleaned. 1,000 points if hits bottom row. Counts toward combo.
Combos – Points earned in a single move are multiplied by the total groups cleared, up to a maximum of 10x.
---
EXAMPLE
A glowing tile is used to clear 3 red tiles from the board which causes a group of 10 blue to clear and a group of 5 yellow tiles to clear. You would get 200 points for the glowing tile (1 glowing tile + 3 red tiles x 50 = 200), 2500 for the blue tiles (group of 10), and 500 for the yellow (group of 5). This gives you 200+2500+500 = 3200 x 3 = 9600 total points.
APP STORE FEATURES
Apple iTunes Feature
Google Play Store Features
"Play Picks"
"Abstract Puzzlers"
"Brain Teasers"
"Multiplayer"
"Summer Promotion"
CONTACT
Problem? In the app please tap MORE / ABOUT / FEEDBACK to talk directly to our team.