White Noise for iPad
FEATURED IN THE WASHINGTON POST AND AN ITUNES STAFF FAVORITE! White Noise Pro is optimized for the iPad and allows you to create the perfect ambient sound environment for relaxation or sleep. All the great sounds from White Noise with the ability to create thousands more using the revolutionary Mix Pad.
Click to visit iTunes Store and download today!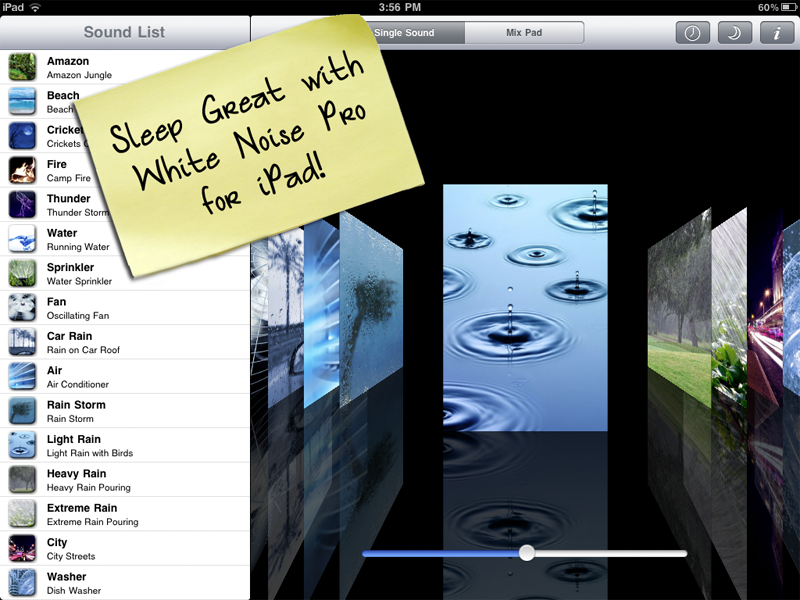 INCLUDES 40 AMBIENT SOUNDS WITH BEAUTIFUL COVER FLOW:

Air, Airplane, Amazon, Beach, Blue Noise, Boat, Brown Noise, Car Rain, Cars, Cat Purring, Chimes, City, Clock, Clothes Dryer, Crickets, Crowd, Extreme Rain, Fan, Fireplace, Frogs, Hair Dryer, Heavy Rain, Heartbeat, Light Rain, Ocean, Pink Noise, Rain Storm, Shower, Sprinkler, Stream, Tibetan Singing Bowl, Thunder, Train, Vacuum, Violet Noise, Washer, Water, Water Drip, White Noise, Wind
Features
- Optimized to take advantage of the full screen resolution of iPad
- 40 ambient sounds with cover flow interface and media controls
- iOS 4.2 background audio support. Play relaxing sounds while using other apps!
- Exclusive multi-touch mixing pad allows you to create new soundscapes
- Visualize sound positions and modify sound variance with the mix mixer
- Multiple sound shutdown timers and alarms
- LED digital clock with dimmer and multiple colors
DOWNLOAD

White Noise Pro is available for your iPad at the iTunes App Store. If you have an iPhone or iPod touch please visir our White Noise page.

HELP DOCS & SUPPORT
Download our White Noise Help Guide which is a nice walkthough of all the features. If you have any questions not covered in the help guide or just want to send us suggestions or feedback please visit TMSOFT Product Support Forums.
PRESS CONTACT
For interviews about the White Noise application please contact:
press [at] tmsoft [dot] com
Relax. Sleep Better. Feel Better.