CALM.
Calm a fussy baby with our interactive baby rattle.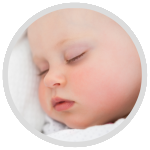 SLEEP.
Gentle pure white noise helps baby sleep better. Sound shutoff timer fades audio out.
MONITOR.
Baby monitor restarts sound if crying is detected. Learn baby sleep patterns with the nightly log.
White Noise Baby includes everything you need to help your baby relax and sleep better. Over 15 perfectly looped sounds that your baby will love. Sounds such as taking a car ride, classical music, conch shell, and Doppler ultrasound of the womb.
Need to quiet your baby while out in public? Try our baby rattle that includes complex shapes and fun sounds that will be sure to entertain. So many great features for your baby to enjoy!

White Noise Baby was recommended by Katie Couric on her show as an "APP-solutely Fabulous Baby App for moms!"
---
Features
Over 15 perfectly looped ambient sounds your baby will love
Background Audio
Baby mode notification to reduce sleep interruptions
Integrated baby rattle with touch and shake controls
Sound shutoff timer that fades volume and closes application
Baby Monitor to restart noise
Event Log to learn baby's sleep cycle
Sleeping and safety tips
Optimized for longer battery life
---
Baby Sounds
Quickly dial in over 15 perfectly looped ambient sounds that your baby will love. Try Doppler Ultrasound and bring your baby back to the comforts of the womb.
Baby Tips
Includes tips to help baby sleep and important safety information for cribs, toys, bathing aids, baby gates, high chairs, playpens, rattles, squeeze toys, teethers, toy chests, walkers, and others.  Safety information provided by the US Consumer Product Safety Commission and formatted for viewing on the iPhone.
Baby Mode
Baby Mode detects if your iPhone is in airplane mode or iPod has WiFi disabled. Baby mode lets you know if White Noise Baby could be interrupted making it difficult for your little one to sleep.
Baby Rattle

Shake the Baby Rattle and watch the balls collide to make sounds sure to entertain your little one.
Ambient Sounds
Air Conditioner, Car Ride, Classical Music, Conch Shell, Doppler Ultrasound, Hair Dryer, Vacuum Cleaner, Blue Noise, Gray Noise, Pink Noise, Red Noise, Violet Noise, White Noise, Dripping Water, Grandfather Clock, Heartbeat, Wind Chimes
---
Download