White Noise 8 has been released for Android and iOS and it continues to evolve based on user feedback. We have added exciting new features, including the innovative Sleep Log, which allows you to track your sound playtime and help you understand your sleep patterns. Let's dive in!
Sleep Log
The Sleep Log is now available in all versions of White Noise 8 for both iOS and Android users. This feature logs the duration of each sound played, providing users with valuable insights into their sleep habits.
Within the Sleep Log, users can see visually appealing cards displaying the sound start time, stop time, and the total duration of the playtime. This easy-to-read format allows users to quickly review their sleep patterns.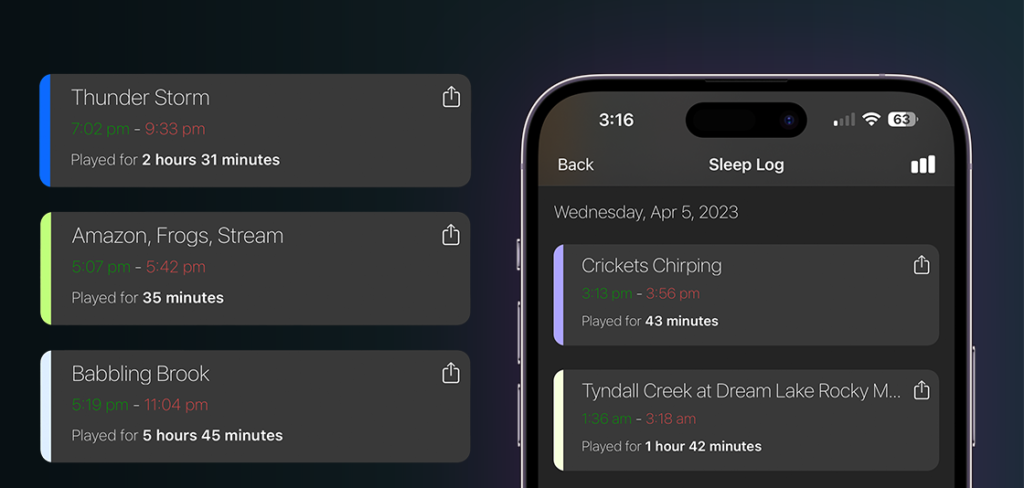 The Sleep Log goes a step further by providing three different charts to help users analyze their sound play time–Sounds chart, Daily chart and Monthly chart.
The Sounds chart displays the most played sounds, giving users an overview of their preferred relaxing noises. The daily chart view showcases the total hours White Noise was played each day. Lastly, the Monthly chart illustrates the total hours played for the month.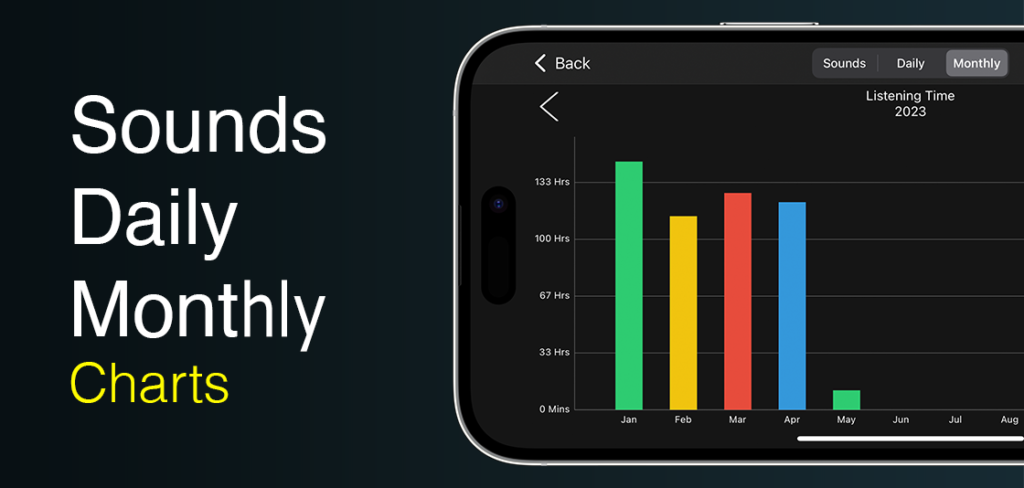 This is a significant upgrade from the previous method of tracking sound play time (directly from the catalog view under each sound) and offers a more comprehensive look at users' sleep patterns. We are sure you will love it and we can't wait for you to get your hands on this new feature.

Sleek New Toolbar
With our commitment to continuous improvement, we are frequently introducing new UI enhancements based on user feedback. The redesigned toolbar offers a more user-friendly and modern look. It features bigger modern buttons accompanied by clear titles at the bottom, making it easier for users to understand each button's function.

With the addition of titles under each button, users no longer need to rely on recognizing icons alone. This makes the app more accessible and intuitive, especially for first-time users.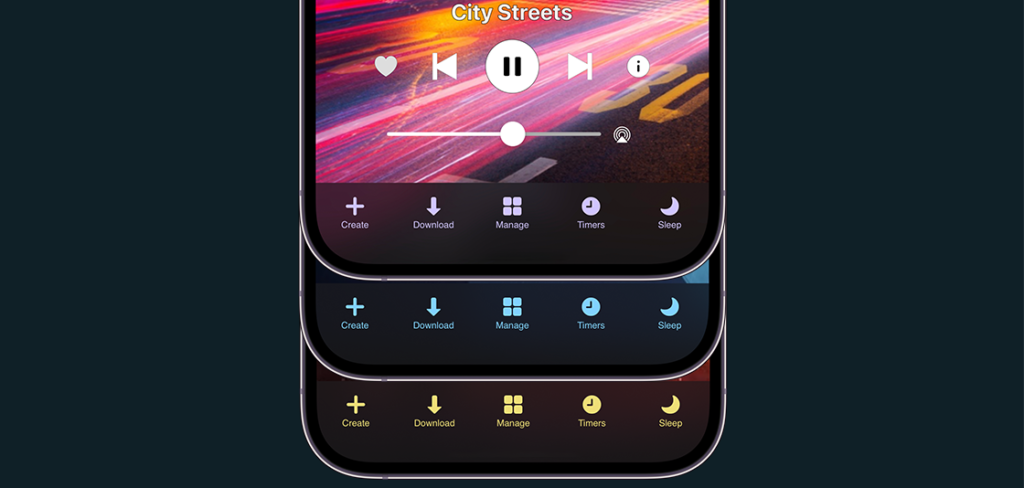 The redesigned toolbar sports a sleek and modern appearance that aligns with current design trends, but it also sets the tone for what is to come in future White Noise UI and UX improvements.
Endless Customization
Gone are the days of being restricted by a fixed number of mixes and playlists in White Noise. With White Noise 8, users can now create unlimited mixes and playlists. Whether you're looking to sleep, relax, or focus, you have the freedom to craft the perfect mix for every occasion.

And with no limit on the number of mixes you can create, there are even more reasons to share your unique creations with the world. Don't forget to showcase your best mixes with the White Noise community!


Additional improvements
White Noise 8 also includes a variety of additional minor improvements to make the app even better:

Improved Voice-Over Accessibility: The home view and recorder view now offer better accessibility for users who rely on voice-over. Recording new sounds is more accessible than ever.

Localized Searches: Support added for localized searches, allowing users to search for their favorite sounds in their native language (English, Spanish, and French supported).

Internal Database Design: A new internal database design that not only enhances performance but also lays the foundation for exciting features to be released in the near future.

Bug Fixes and Performance Enhancements: We have addressed several bugs and made stability improvements to ensure a smoother user experience.


White Noise 8 brings new features and improvements showing our commitment to user experience and continuous enhancement. The Sleep Log, redesigned toolbar, new internal database design, unlimited mixes and playlists, and more all contribute to making White Noise the best app to Relax. Sleep. Better.
Don't miss out on these fantastic new features – dive in and explore White Noise 8 now! If you would like to provide feedback please contact us at support at tmsoft.com.