White Noise 6 for Windows has been released and includes our revolutionary Mix Pad! It's available as a free update from the Windows Store. This latest release brings full support for the creation, import, and export of sound mixes. Download and import user mixes from our White Noise Market. Runs perfectly on all Windows 10 devices including Desktop, Xbox One, and Mobile.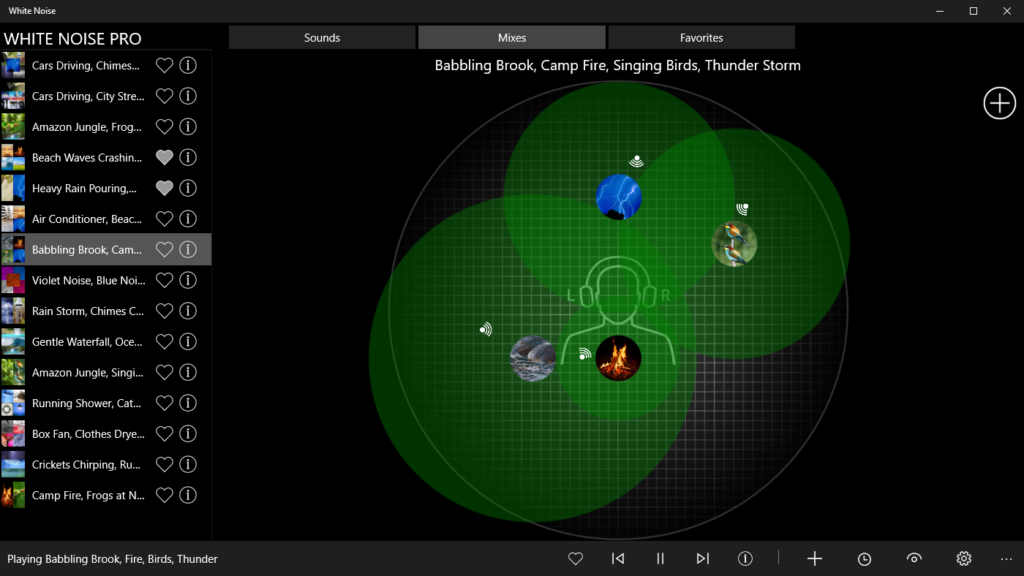 Latest Features
Design new ambient sounds using our revolutionary Mix Pad
Download and import mixes from the White Noise Market
Heart your favorite sounds and mixes and then quickly browse all your favs
View additional sound details by tapping the info button
All features work perfectly on Windows 10 Desktop, Xbox, Tablet, and Mobile devices
Core Features
50 HD perfectly looped ambient sounds
Sound shutdown timer that slowly fades audio volume out
Background audio plays while minimized
Digital sleep clock perfect for any nightstand
Media control integration for quick sound navigation and volume control
Upgrade to Pro Version for full stereo sounds, unlimited imports, and removal of ads
It's really easy to create new mixes with White Noise for Windows 10. Tap on the Mixes segment at the top of the app and then click Add Mix to get started. Add up to 5 sounds and adjust audio properties such as volume, position, pitch, and variance. It's a lot of fun creating new ambient experiences.
We are excited to continue to support our Windows 10 customers and hope you enjoy creating and sharing sound mixes with this new version. Download White Noise for Windows 10 and mix it up!