Picture this: you soothe your baby to sleep with White Noise from a mobile device to prevent rogue sounds from waking him or her. Then you put the baby down to sleep, turning off the app to avoid it running all night. You retreat to bed attempting to get a restful nights sleep and then it happens–the baby is awake and crying. You frantically try to turn the white noise back on while half asleep to settle the baby. We're sure new and veteran parents understand this scenario all too well, but we think we have a solution for it. The Monitor feature in the updated White Noise Baby app will surely save you from those frantic nights.
Monitor
The White Noise Baby app allows you to set a timer for the sound to turn off and to come back on when necessary. This is a great feature for parents that don't want sound to run throughout the night, but also want the sound to soothe the baby if he or she were to wake up crying. The White Noise Baby Monitor detects the sounds of crying babies and will restart the sound for a duration of your choosing.
To enable to the Monitor, start playing a sound. Use the Timer function to select an amount of time you wish the sound to play and tap Start Timer. Then use the Monitor function to choose the noise level, Play Duration, and Max Restarts.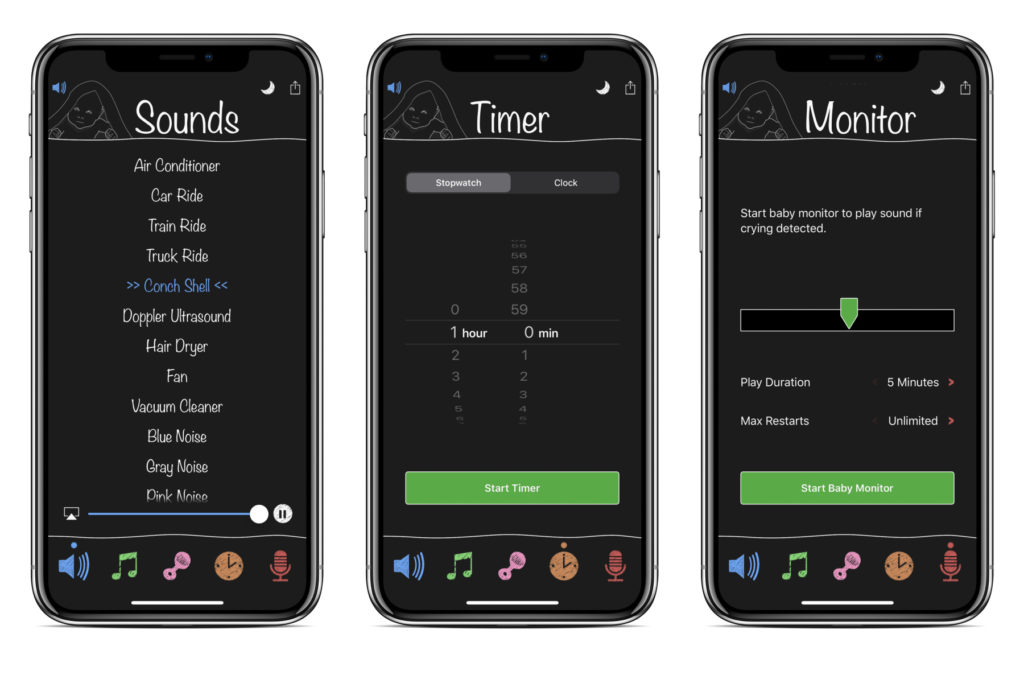 The noise level is the level at which the sound will start to play if a noise (such as crying) is detected. Play Duration indicates how long the sound will play if the monitor detects sound and starts playing again. Play Duration ranges between 5 and 60 minutes. Max Restarts allows the user to limit the number of times the sound restarts due to detecting noise. To begin the Monitor, tap Start Baby Monitor.
Log
An additional built-in feature of the monitor is the ability to track your baby's sleep patterns. The Log will show you how often the monitor turned on and off. It contains details such as date and time for each action taken. It will also keep a record of the different sounds to which were listened. You can access the Log by swiping the bottom menu until you see pink square Log icon.
Parents, this is a must have feature for your little ones. No more dragging yourself out of bed to struggle with turning the white noise back on to soothe baby back to sleep! Download White Noise Baby for iOS and Android today and get your little one back to sleep using the White Noise Monitor!