White Noise Market 7.1 includes new features that allow you to explore over 10,000 sounds, chat with the community, and follow your favorite users and sound categories. Explore the map using the new Satellite view to discover new sounds from around the world.  Scroll through the Chatter, Recent or Featured screens and "heart" your favorites, share sounds to social media, or quickly join the conversation. Follow sound categories and White Noise users to receive notifications when new sounds are uploaded to a favorite category or by a favorite user.  Learn more about the enhanced features coupled with screenshots below.
Explore the World's Sounds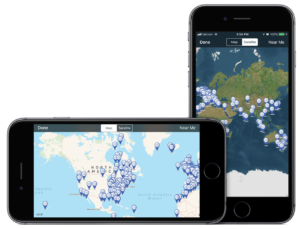 By popular request, we've added a new Satellite view to the world map of sound recordings.  Zoom in and out and scroll to explore sounds and locations other users have shared.  As a reminder, when creating and sharing sounds, be sure to choose a general or public location rather than a private residence.
Heart, Chat, Share Instantly with the Social Bar
Take advantage of the new Social Bar included on the Chatter, Recent, Category, and Featured screens.  The Social Bar allows you to quickly show some love with a heart, write a comment, or share the sound on your favorite social network.
Follow Users and Categories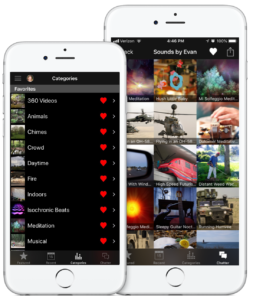 You can now follow your favorite users and categories so you'll get notified when new sounds are uploaded!  Locate the Categories screen and then scroll through and heart your favorites.  This serves two purposes – It'll group your favorites for quick access at the top of the screen and it'll also send you push notification when new sounds are uploaded into those categories.  Do you have a favorite user you want to follow?  Tap on any sound they have uploaded, tap on their user avatar to view all their sounds, and then tap the heart on the top right of the page.  Once you've chosen the categories and users you want to follow, you will be notified when new sounds are uploaded so you won't miss a thing!
Bonus Feature: TMSOFT News
Tap "News" on the side menu to read up on all the latest White Noise updates, new product announcements, and articles on how to relax and sleep better.
We have enjoyed watching the White Noise community and sound library expand.  People like you are sharing their sound experiences allowing others to explore the world using a different perspective.  With over 10,000 sounds, White Noise users will undoubtedly find the perfect relaxation or sleep sound for them.  If you haven't explored the White Noise Market yet we highly recommend you download it for free today as the experience is unlike any other.