Moms and Dads, we understand parenting can be difficult and the first few years are the most exhausting–Night after night of feedings, diaper changes, and trying to determine why your precious bundle of joy is less than joyful.  Luckily, we have an app for that!  Featured as one of the 5 Apps for a Better Sleep by Google, White Noise Baby is the sleep solution you've been looking for.  Let's review all the benefits of using the White Noise Baby app.
White Noise Baby Sounds
White Noise is known as a sleep aid for adults and fortunately it works for babies too.  The White Noise Baby app includes 20 perfectly looped ambient sounds and 10 classical music tracks by composers Beethoven, Chopin, and Mozart which will help your little one drift to sleep.  Add new sleep sounds to your White Noise Baby app by downloading our free companion app, White Noise Market which includes access to 10,000 additional sounds with more being added daily.  Sleep sounds will help your baby fall asleep faster and stay asleep longer.
White Noise Baby Monitor 
The White Noise Baby Monitor was designed so noise does not have to play continuously throughout the night.  Instead, the Baby Monitor will start playback of ambient sounds when crying is detected which will comfort your baby back to sleep.  You can customize the monitor by setting Play Duration and a maximum number of restarts.  Additionally, the monitor creates an event log of noise detection which allows you to track baby's sleep cycle.
White Noise Baby Rattle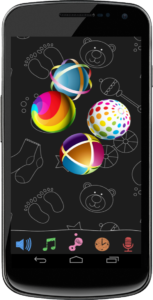 Babies often get fussy when out in public which can cause parents to stress.  Not anymore because White Noise Baby gives you a rattle to go!  This interactive baby rattle includes high contrast shapes and fun sounds that are sure to entertain your baby while you finish your shopping or socializing.
White Noise Baby Tips
We understand how nerve-racking it is to be a parent of a baby, so we've also included sleep tips to help your baby sleep soundly and safety tips from the U.S. Consumer Product Safety Commission for additional support.
Our goal is to help people relax and sleep better which can be challenging with a baby.  This app was designed to support parents and calm babies during those first few years.  Don't take our word for it, as mentioned above, Google is featuring the app as a top app for a better sleep and Katie Couric recommended White Noise Baby on her show as as an "App-solutely Fabulous Baby App for moms."
Available on iOS and Android as a free or paid version.  Take advantage of all these benefits by downloading White Noise Baby today!