Tag Archives:
school-aged children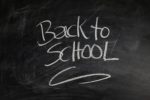 School is back, is your child ready?  If your child spent the summer sleeping all day and staying up all night, you will need to adjust their routine to prepare them for the upcoming early mornings.  Sleep is important to your child's physical and mental health and can also affect their academic success.  In fact, sleeping 8-10 hours each night can boost memory, sharpen attention, enhance creativity, correct behavior, and … Continue Reading
This entry was posted in Sleep, White Noise and tagged back to school, children, kids, preschoolers, school, school-aged children, sleep, teenagers. Bookmark the permalink.
Tagged

back to school, children, kids, preschoolers, school, school-aged children, sleep, teenagers
Comments Off

on Back to School Sleep Tips