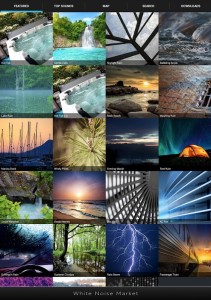 The White Noise Market App for iOS and Android is here! The big secret I mentioned in my last post is finally starting to be revealed and we couldn't be more excited.  This companion app will make downloading new sounds to White Noise, White Noise Pro for iPad, and White Noise Lite much easier and much faster.
The new White Noise Market App allows you to browse through relaxing sleep sounds and add directly to the White Noise App. You can browse by featured sounds, top sounds, or sound category as well as search by keyword.  You can even navigate the world map of recordings to find the perfect sound from your favorite corner of the world.
We love all the comments our users have been writing on the Market.  Have you made a sublime mix of sounds that you swear by?  What activities are you doing when you listen to your favorite sound?  Login to leave a comment and start a conversation about the sounds you like and use the most.   Don't want to login with your favorite social network?  No problem.  The app supports logging in as a guest to get new sounds too.
Using the new White Noise Market App will make getting new sounds easier and faster.  See something you might like? You can give it a quick listen by tapping on Audio Preview. Once you find a new sound you want, tap download to add your sound to the download queue. Sounds will be downloaded in the background and once finished can be opened in White Noise, White Noise Lite, or White Noise Pro.
New sounds are being posted almost daily so let's get busy downloading, relaxing, and sleeping better!